Ed C. has a special bell that never had a clapper. He says:
I have a miniature replica of the Liberty Bell. I love having it but it is missing it's clapper. The bell size is 5 inches high by 6 inches across the bell mouth. I will truly appreciate your letting me know if or where I can get a replacement clapper. I can tell you this bell was one of about 200 made by Techtron Casting company in Culver City, California in 1975. They were sold for about $300.00 apiece as centennial celebration items in 1976. My brother-in-law, one of Techtron's owners had this extra bell left over as a spare. It was never needed so not completed with a clapper. I made the mounting from sketches I made of the original when it was on display in Los Angeles at the museum. I would like very much to complete it with an authentic looking clapper.
Thanks again for your help
Ed.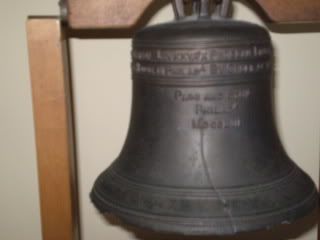 If you can help, please post a response.
Admin (Carolyn)
This inquiry was originally sent to the ABA's Internet Coordinator. Responses are opinions of individuals based on their personal research and knowledge.
-01355-