Most of us only dream about what Judy Blake of Shoreham, Vermont, has made into a reality. She has created a bell museum and filled it with approximately 6,000 glorious bells. Judy's labor of love is a tribute to her combined family of bell enthusiasts. The history of the Shoreham Bell Museum can be found at
http://shorehambellmuseum.com/about1.html
.
Located on a rustic dirt road about four miles from the rural village of Shoreham, you will drive through some of the most gorgeous scenery in the United States, regardless of the time of year you visit! If you decide to go there (and you really must, if at all possible), you'll be awed by the splendid scenic vistas from the mountains of Vermont that overlook the valley where Lake Champlain sits surrounded by the majestic Adirondack mountains of New York state and the Green Mountains of Vermont. Some may think they are in the "middle of nowhere" but you can be assured that it is a beautiful journey to get there with a fantastic reward once you have arrived!
On Saturday, April 25, 2009, Judy Blake hosted a joint meeting of the New England and the Adirondack Chapters of the American Bell Association International, Inc. in Shoreham. The featured program of the day was an opportunity to explore the contents of the Shoreham Bell Museum. What a treat it was! The museum is not only full of a huge variety of bells, they are all grouped by category, attractively displayed, well lit, neat and clean. The variety of cabinets and shelves add to the interest because many of them are antiques themselves. There are rugs, sofa throws, table cloths, wall hangings, Bibles, and souvenir items with bell motifs.
The Shoreham Bell Museum
is a bell collector's paradise!
Walking through the front door, you get a quick preview of the adventure ahead of you.
As you walk down the first aisle, you begin to wonder if there will be enough time to see it all!
Color, Color – Everywhere!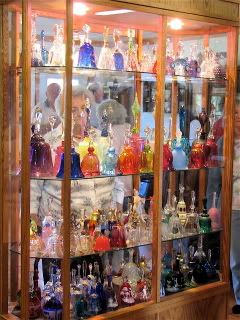 Chinese Enamel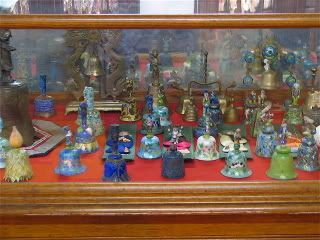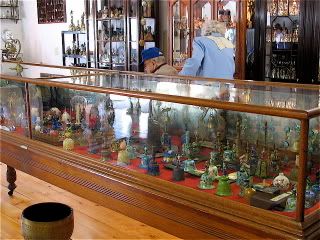 More Asian Art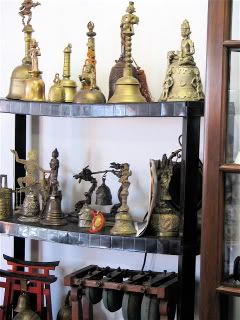 Call Bells



Figurines, Figurals, Religious


Silver Bells, Silver Bells…

Wheel of Bells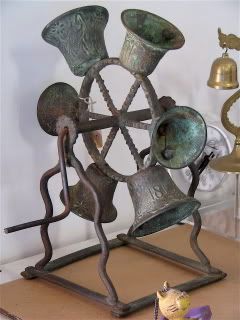 As we leave this haven of bells, we turn around to take one last look … until next time!