50a - ANCIENNE ET ORIGINALE CLOCHE DE TABLE EN BRONZE POLYCHROME SONNETTE TABLE BELL


La tête devait être polychrome mais l'usure du temps a enlevé les couleurs (il en reste encore un peu voir photo)
Vous pouvez actionner la sonnette avec le doigt en bougeant la tête qui est mobile
Bien sûr vous pouvez actionner normalement la cloche et la tête bouge toute seule
Elle mesure 12,6cm de haut /5,5cm de diamètre
La tête mesure 2,5cm de haut

ANTIQUE ORIGINAL TABLE BELL IN BRONZE POLYCHROME
The head should be full color, but the test of time has removed the colors (there is still a little in the picture)
You can operate the bell with your finger while moving the head is moving, or you can normally operate the bell and the head moves alone.
It measures 12.6 cm (5 in) in height / 5.5 cm (2.2 in) in diameter / The head measures 2.5 cm (1 in) high

By now an old friend, another from this Asian series of nodders and figurine bells, male and female.




http://www.ebay.com/itm/120779917688?ss ... 1423.l2649

=================================================================================================



50b - VICTORIAN ANTIQUE BRASS DOOR BELL BROWNS PATENT PORCELAIN BELL PUSH BRASS BELL


Fantastic original door bell with printed porcelain push, solid brass "drum" & bell with a metal striker.
Porcelain push is printed BROWN'S BELL PATENT
Fantastic piece of design & a wonderfully simple single strike of the gong when pushed,
producing a wonderful tone.
Drum column ~ 1.1 inch thick/wide (3cm thick/wide)

I have not seen one of these previously, but it seems to be a simple and foolproof adaptation of a tap bell. Normally on a tap bell, the bell is horizontal and the tap vertical. Pressing down on the tap causes the clapper to fly out and up, strike the bell, and return to its rest position by gravity.

This doorbell rotates the mechanism 90 degrees. The bell is vertical and the tap horizontal. Pressing the tap causes the clapper to fly up and back, strike the bell, and return to its rest position by gravity. Note that photo 2 should more properly be rotated 180 degrees to show the usual geometry, with the rest position of the clapper in the horizontal plane.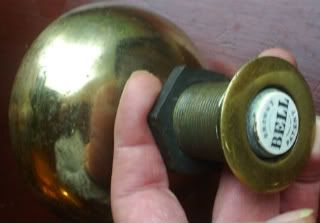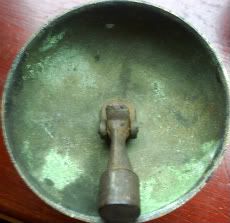 http://www.ebay.com/itm/320760779535?ss ... 1423.l2649

=================================================================================================



50c - Antique Austrian Bronze DOG Servant Bell Pusher Ringer


This item is a early 1900's servants bell push ringer. It has the bone push button and the inner works but no wiring. It has the little loop on the dog's back......would make a very unusual necklace!!! Anyways, I did some research on this piece and it was probably Austrian made, hard to find and rare. This one is so nice and the dog is very detailed and measures about 3" long.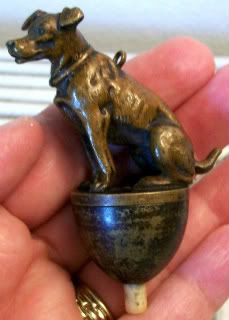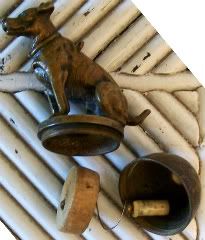 http://www.ebay.com/itm/230675197952?ss ... 1423.l2649

=================================================================================================