Kathleen in California wrote:
I inherited about 20 bells, about 10 are old mission bells from 1811 FE, Mexico with figures of Christ and Mary, in different sizes (for example, 8" dia. x 9"h., 12 1/4" dia. x 11" h.) Is "FE" Santa Fe? Would appreciate any info. Thank you in advance Sincerely, Kathleen
After asking her to send a few pictures, she responded with additional information:
I have the bells in storage so I will go by and take some pictures of them this weekend and email them to you. After looking at one of the bells I have here, the year was 1810. Most of the bells were purchased around 1970 and some of the larger bells were from a foundry in Sonora. One of the bells was sent to Chem-Met Assoc. for an assay report in May of 1980. The report determined that the bell was 79.35 weight % of Copper
17.06 " % Zinc
0.18 ": % Nickel
2.42 " % Iron
0.99 " % Others(Mn,Al,Pb)
It was the opinion of M.P.Christensen, Assayer, that the bell was probably cast between 1850 and 1875. This was not one of the bells with a date on it. I'll get those pictures out asap. Sincerely, Kathleen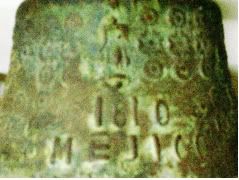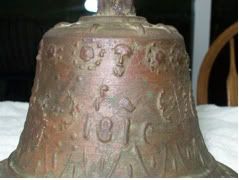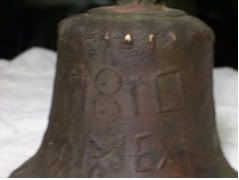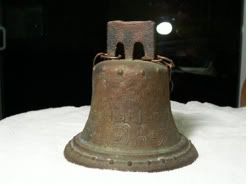 Since I was unable to post pictures at the time, I forwarded them to Max Kurillo who wrote:
Dear Kathleen,
You have some nice bells in your collection that really do seem to be old. I have been researching bells of this type for about ten years now and even have a small 1811 bell. You have provided a chemical analyses, something I always wanted to do. What bell was it taken from, could I have a picture. I assume this was done only on one bell. I wonder if the others would be the same. This would indicate they were made at the same location. When I look at the composition; 79.35 Cu, 17.6 Zn, .18 Ni, 2.42 Ir, .99 others. I do not question the report, but let us work with it. Melting point of Cu 1981 deg., Zn 787 deg., Ni 2646 deg., Ir. 2700 deg., Mn. 2246., Al. 1217., Pb. 621 deg. We have a range of 621 deg. to 2700 deg. this had to be done in a foundry with a large furnace. The question is; why was Ni, Al, Ir, Pb (bad for a bell), and Mn. put into this bell? . No need to have Ir , Al. or Mn in a bell. You have brought in lots of questions, I want to thank you very much for bringing this analysis up for discussion. In the April/ May, 1976 issue of the ABA Bell Tower, Mr. H.H. Miller of the Miller Brass Foundry, Durreon, Mexico writes, "Another custom when a bell is needed is to collect all the brass and copper junk in the neighborhoods. A typical collection sent me at one time contained everything from brass beds to Ford radiators, phoney jewelry, obsolete copper coins, counterfeit pesos, copper wire, tin tags, a weather vanes, sun dials, window screens, pewter mugs, and a large service plate". It appears as if all types of Junk was thrown into this mixture These styles of bell were first sold in Chicago during the 1950s, as documented by ABA members: See Bell Tower Index, Mexican Bells, Comments on Mexican Bells Dated 1815 or 1818 , October 1986, pg 19 and Mexican Bells, The 1811 Mexican Bells and the Chiantel Fondeur 1878 Bells, Nov/Dec, 1988, pg.56. In both articles the authors say almost the same thing "I saw a window full of them on display at Marshal Fields in Chicago" and ""Marshall Field of Chicago sold these bells in their State Street Store. They made quite a promotion of them and had a widow full of these bells". At this time we cannot trace the style of your bells beyond the 1950s. Thank you very much for the opportunity to comment on your bells. Max Kurillo

If you can add information, please do so.
Carolyn
This inquiry was originally sent to the ABA's Internet Coordinator. Responses are opinions of individuals based on their personal research and knowledge.